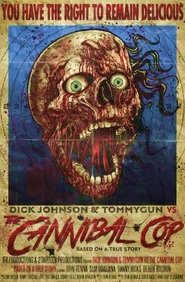 Dick Johnson & Tommygun vs. The Cannibal Cop: Based on a True Story
You have the right to remain delicious.
Feb. 01, 2016
USA
Synopsis
Two mismatched homicide detectives are forced to team up and stop a killer from reaching his dark twisted goals. There is one small problem; the cannibalistic killer is a crooked cop who could be closer than they think! As the body count grows and the bullets fly three cops and a rat put their lives on the line to stop a mad man and his crazed cult from killing and devouring 100 women. Can Dick and Jeff figure out a way to stop the killing without killing each other?
Original title
Dick Johnson & Tommygun vs. The Cannibal Cop
IMDb Rating4.4 11 votes
Similar titles