America's Test Kitchen 7x13
More Tex-Mex Favorites
We love good Tex-Mex, but depending on which part of the country you live in, chances are you'd be better off preparing it yourself at home. We wanted to take a look at two Tex-Mex favorites, chicken fajitas and huevos rancheros, and create authentic, tasty versions we could stand behind.
Chicken fajitas aren't as easy a proposition as beef fajitas. Beef, by nature, packs a lot more flavor, while chicken fajitas seem to rely on a host of condiments to mask its lack of flavor, or worse, its dry texture. We wanted tender, juicy chicken, and we wanted it well seasoned. We wanted the same for our vegetables—too many vegetables in fajitas are treated as a bland afterthought. As for the tortillas, we wanted warm, soft tortillas, not the brittle tortillas we've often encountered in restaurants due to poor heating methods. Huevos rancheros are the answer to a hungry man's (or woman's) breakfast. But too often we've stared at what looks like a dish of fried eggs crossed with nachos. First, we wanted to get rid of all the unnecessary entrapments, paring back this breakfast classic to its tasty essentials. We'd need to focus on the fiery roasted salsa that typically is part of this dish, but making salsa with out-of-season tomatoes is a gamble. And without access to fresh corn tortillas, we needed to find a way to turn rubbery supermarket corn tortillas into a crisp, not greasy, base for our eggs. Last, we needed to figure out how to coordinate cooking the eggs with the other elements, so that everything comes together simultaneously—hot and fresh.
Recipes:
Chicken Fajitas for Charcoal Grill
Chicken Fajitas for Gas Grill
Chicken Fajitas Indoors
Chunky Guacamole
Huevos Rancheros
Refried Beans
Tasting Lab: Supermarket Refried Beans
Equipment Center: Do Grill Pans Really Grill?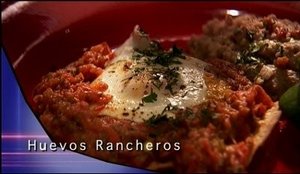 Mar. 31, 2007
America's Test Kitchen season 7