America's Test Kitchen 1x3
Great Roast Chicken
Should you roast in a hot oven or a moderate oven? How do you get crisp skin and moist, tender breast meat? We answer these questions and more.
Recipes: Easy Roast Chicken
Tasting Lab: Kosher Bird Wins Chicken Tasting
Science Desk: What is the Difference between White and Dark Meat?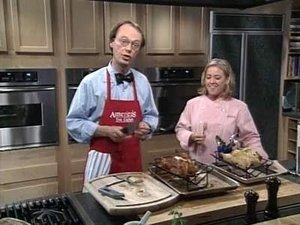 Aug. 18, 2001
America's Test Kitchen season 1